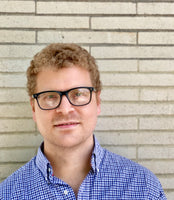 About the Artist
Phil Leith-Tetrault is a digital artist specializing in landscapes. He was born in Baltimore, Maryland and graduated RIT's New Media Design program in 2007. He has worked for 10 years as a digital designer, and more recently, a digital artist. He currently lives and works in Brooklyn, New York.
His work explores the idea of beauty in desolation. Inspired by his childhood trips to Greenland, Newfoundland, and Northern Quebec, he emphasizes the pristine beauty of these environments as well as their loneliness and distance from the modern world. The landscapes suggest places free of society's grip, places without boundaries or rules. There, beauty and desolation are inseparable and reinforce one another.
Phil makes these landscape prints using illustration software. He draws organic shapes in the form of old houses, mountains, trees, rocks, and flowers before filling these shapes with vivid color. During this process, the landscape begins to suggest physical and emotional feelings associated with its location.